---
---
---
Hi I am sweet,playful,loving,and extremely loyal,and i will be around for a long,long time cuz i am INTELLIGENT,LIVELY, & BOLD, I AM A
YORKIE
!!


Biewers vs Part Yorkies:

Looking at Biewers and Parti Yorkies, we would associate them as being the exact same breed. . But there are significant differences. The Biewer is considered a separate breed from the Yorkshire Terrier, even though its bloodline is strictly related to the Yorkie. The Biewer was developed in Germany in 1984. It is pronouned BEE-VAH. Many breeders in America who admired and loved the beauty of the Biewer have imported them here to breed in their own breeding program. All Biewers' bloodlines go back to the original ancestors in Germany. They do have a specific color pattern and do not dock the tails. Biewers ARE NOT AKC registerable, their registry originates in Germany.

The Parti Yorkie was created here in America from AKC Yorkshire Terriers that carried the parti gene color. A breeder in California created the line by breeding more and more of the white recessive gene color together to eventually become what we see today, as being almost all white. The Parti Color Yorkie is 100% AKC Yorkshire Terrier and is an accepted color on the AKC registrations. The parti color does not have a specific color pattern. Any yorkie that has significant white patches or coloration combined with black and gold is considered a parti color yorkie. The tails are docked by most breeders.

Although, some of the more conservative thinking breeders prefer not to associate the Parti Yorkie with the traditional colored Yorkshire Terrier, the color and quality of the Parti Yorkie grows in popularity and is accepted by AKC and its bloodline comes strictly from the Yorkshire Terrier, making them full blooded Yorkshire Terriers.

Both AKC parti colored yorkies*** and Biewers*** are recognized by YTCEHB and accepted into this organization in Germany

Comes w/1st shots & wormed
YORKIES ARE LIVELY, INTELLIGENT, BOLD & HAVE A LIFE SPAN OF 12-20 YEARS!
~
THE
RIGHT
PLA
CE
FOR
FI
NDING
YOU
R

PERFECT

PUPPY~
www.puppiesovertherainbow.com
Becky 605-651-0276~Shirlie 605-695-5801~Diane 605-651-7481
YORKIES CAN RECONIZE UP TO 120 WORDS/COMMANDS
1-YEAR HEALTH WARRANTY. ALL PUPPIES ARE GUARANTEED TO BE HEALTHY. ALL OUR PUPPIES ARE HAND/HOME RAISED WITH FREE RANGE. WE WILL GUARANTEE EVERY PUPPY PURCHASED DUE TO ANY CONGENTITAL DEFECT OR ILLNESS THAT HAS BEEN INQUIRED ON OUR BEHALF. WE WILL REPLACE YOUR PUPPY ACCORDINGLY TO EQUAL VALUE OF THE PUPPY PURCHASED. WE DO NOT WARRANT ANY PUPPIES DUE TO NEGLECT ON PURCHASERS BEHALF THIS MEANS WE WILL NOT WARRANTY A PUPPY DUE TO DEHYDRATION, HYPOGLYCEMIA, FALLS, STARVATION, OR ANY ACCIDENTS/ILLNESS DUE TO NEGLECT BY THE OWNER/PURCHASER. WARRANTY APPLIES ONLY IF A PUPPY HAS HAD A VETERINARIAN HEALTH CHECK WITHIN 48 HOURS OF PURCHASE. PROGNOSIS MUST BE SIGNED AND DATED BY A LICENSED DVM. FIRST SHOTS ARE GIVEN AND ALL PUPPIES ARE WORMED ACCORDINGLY TO AGE AND DEVELOPMENTAL AGE. IF A PUPPY IS PROJECTED TO BE LESS THAN 2 POUNDS, THEN WE DO NOT GIVE VACCINATIONS DUE TO THE SIZE OF THE PUPPY WE RECOMMEND THAT YOU GET YOUR SHOTS BY YOUR VETERINARIAN. WE DO NOT GUARANTEE THE PUPPIES ABILITY TO REPRODUCE & WE HAVE THE RIGHT TO GIVE FULL OR LIMITED REGISTRATION. SIGNATURE & DATE OF PURCHASER______________________________________ SIGNATURE & DATE OF BREEDER/SELLER_____________________________________


MALE MORKIES : JOHNNY, & WHEATON
"

JOHNNY" ABSOLUTEL YGORGEOUS!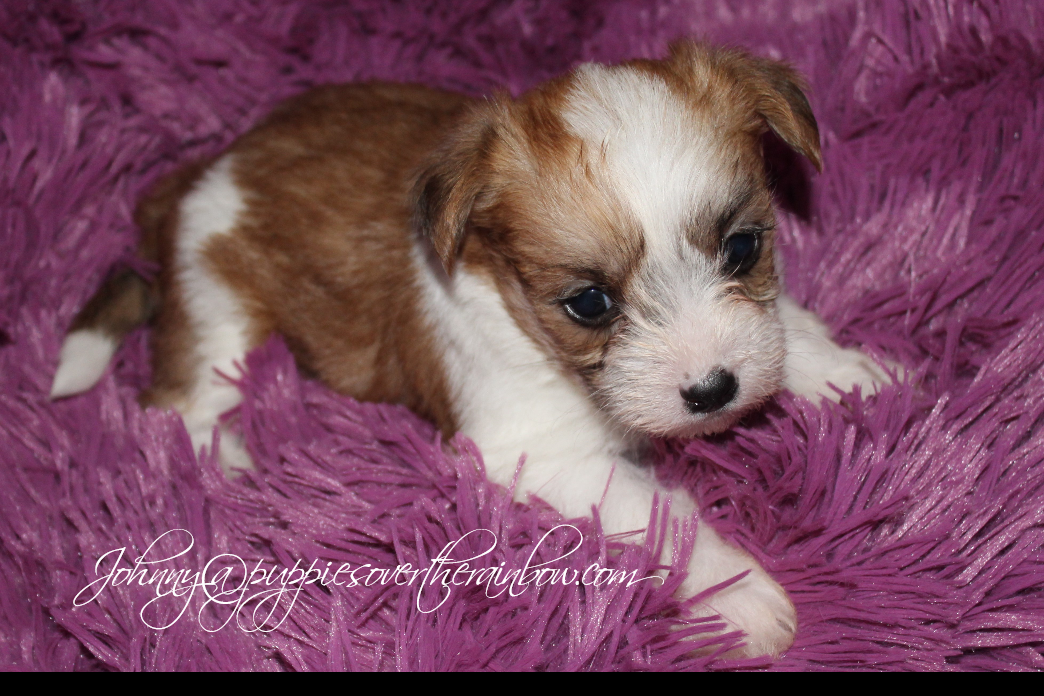 Charting to weigh 6 - 6 1/2 lbs.
Charting to weigh 6 - 6 1/2 lbs.
Charting to weigh 6 - 6 1/2 lbs.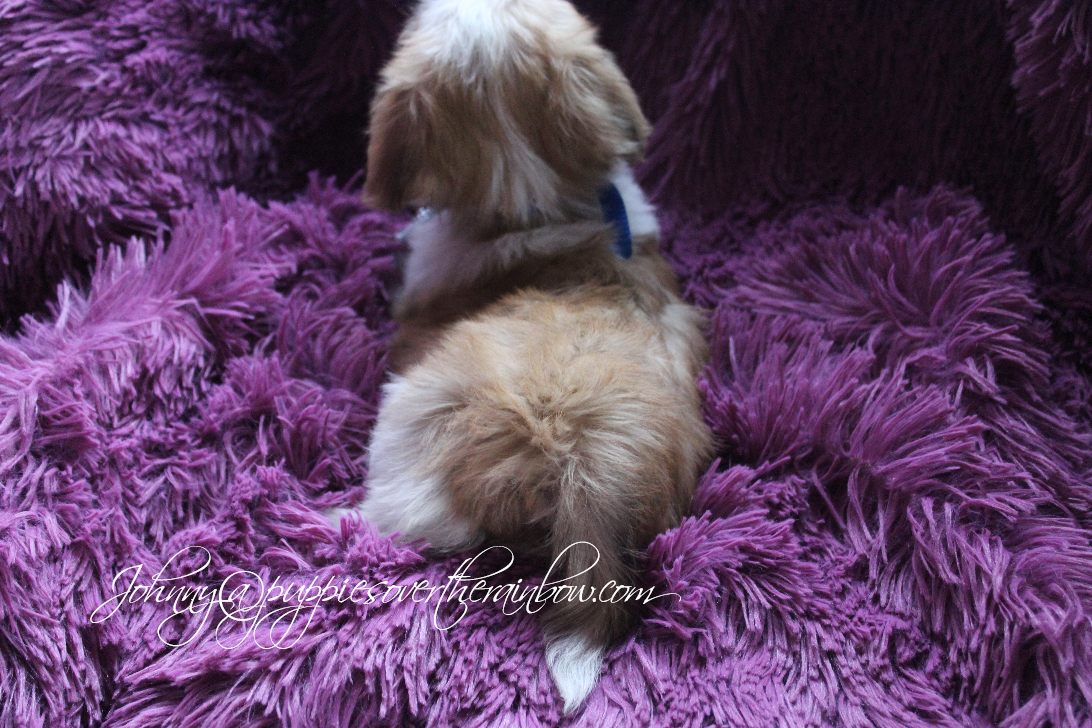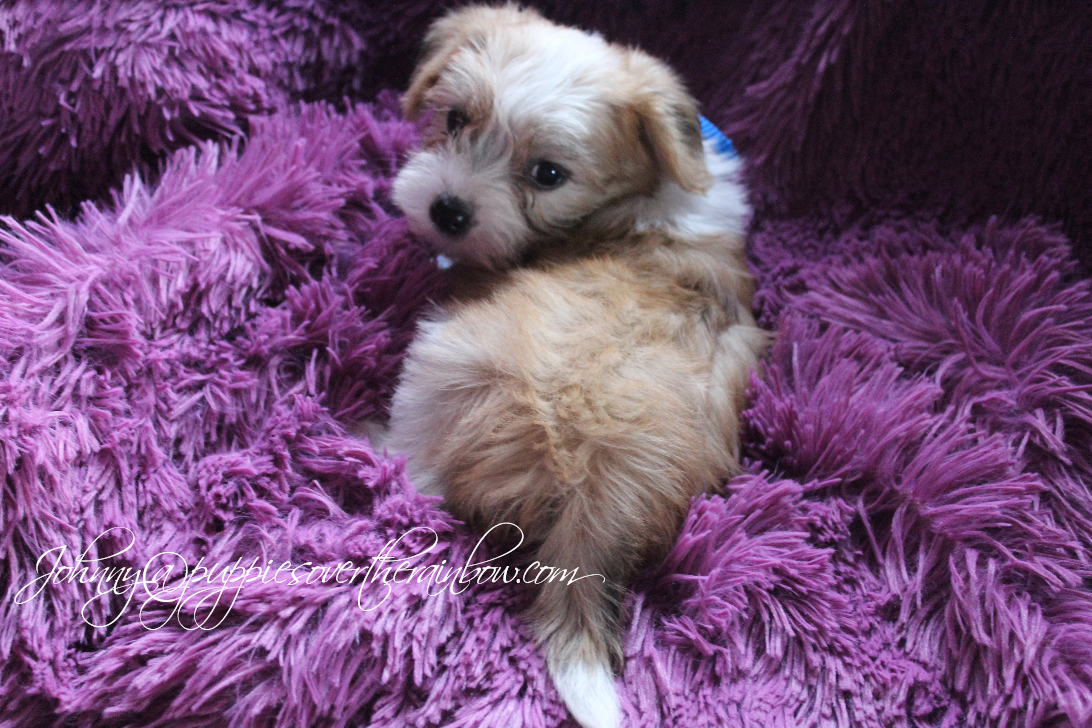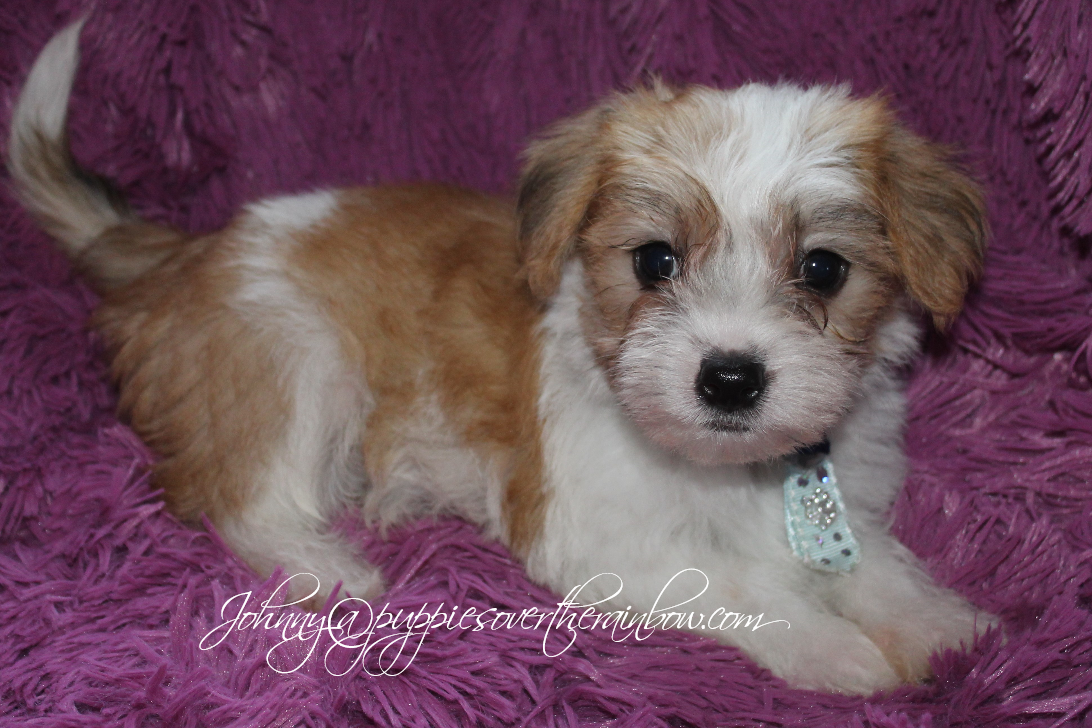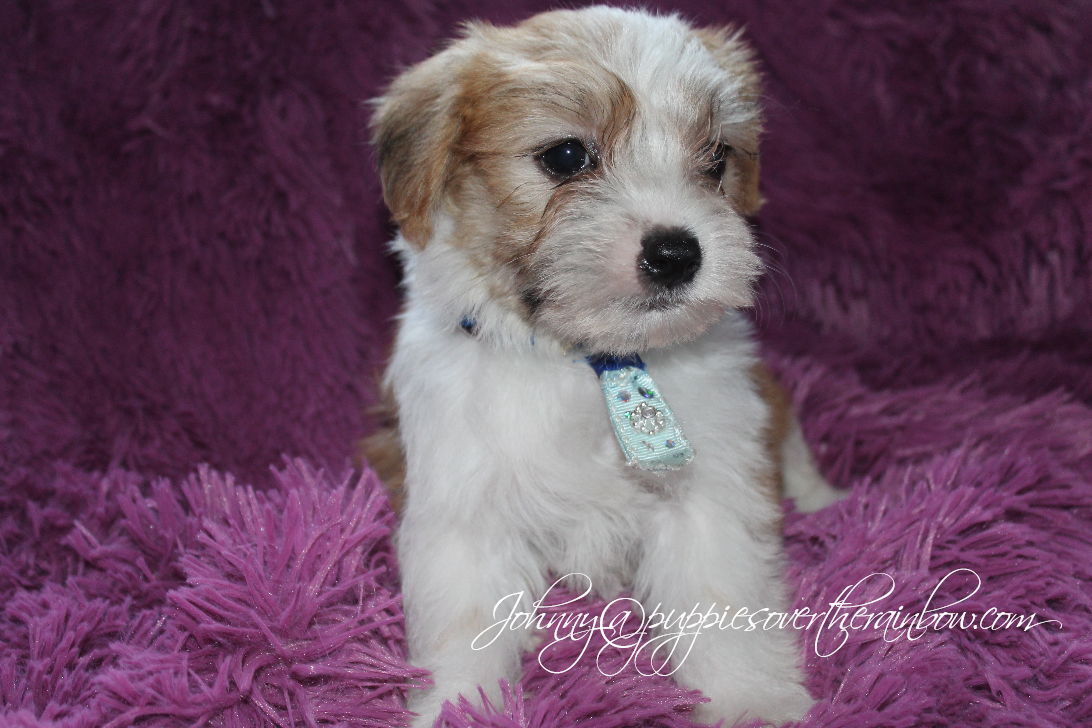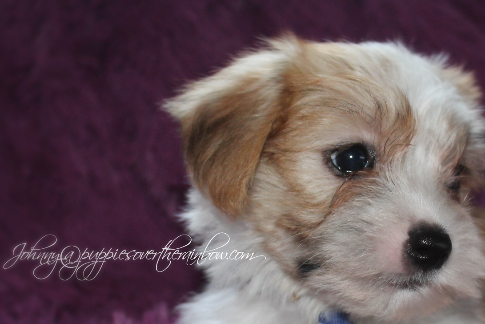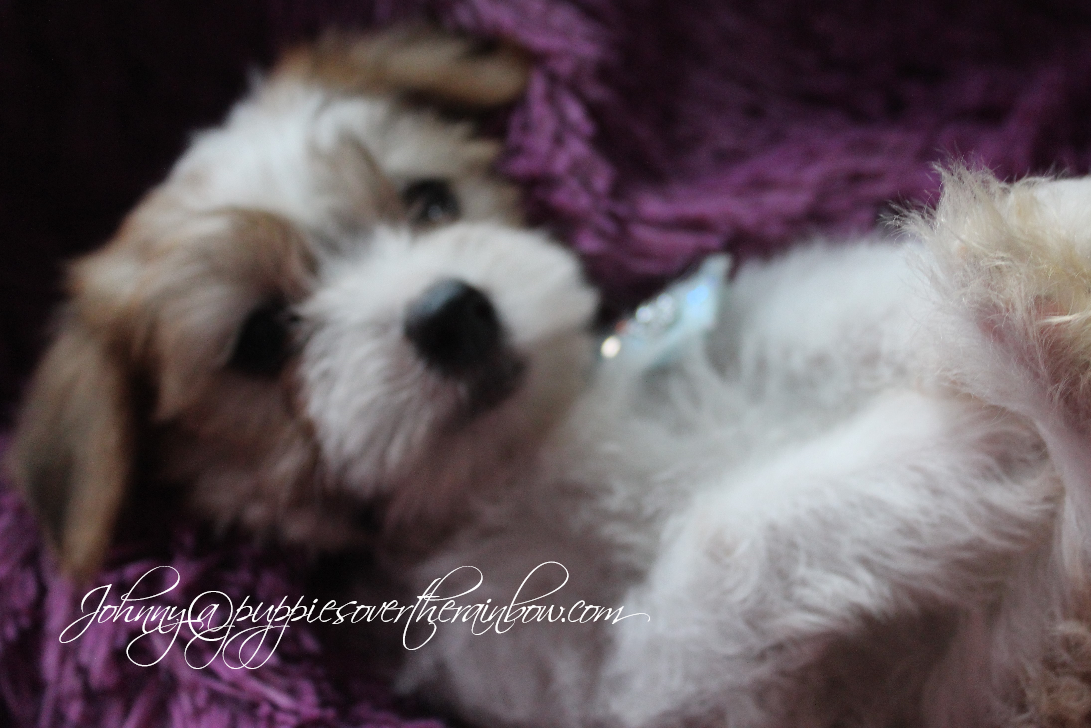 Thick Soft Coat, Like a "BUNNY"
UTD On Vaccinations & Worming
PUPPIES OVER THE RAINBOW!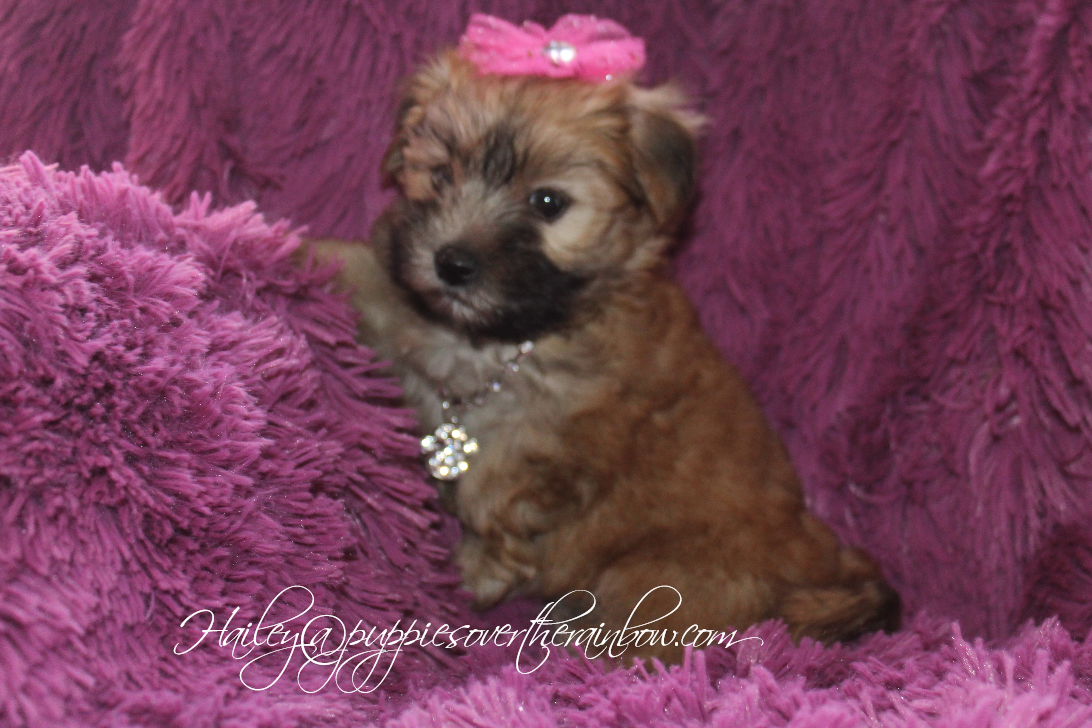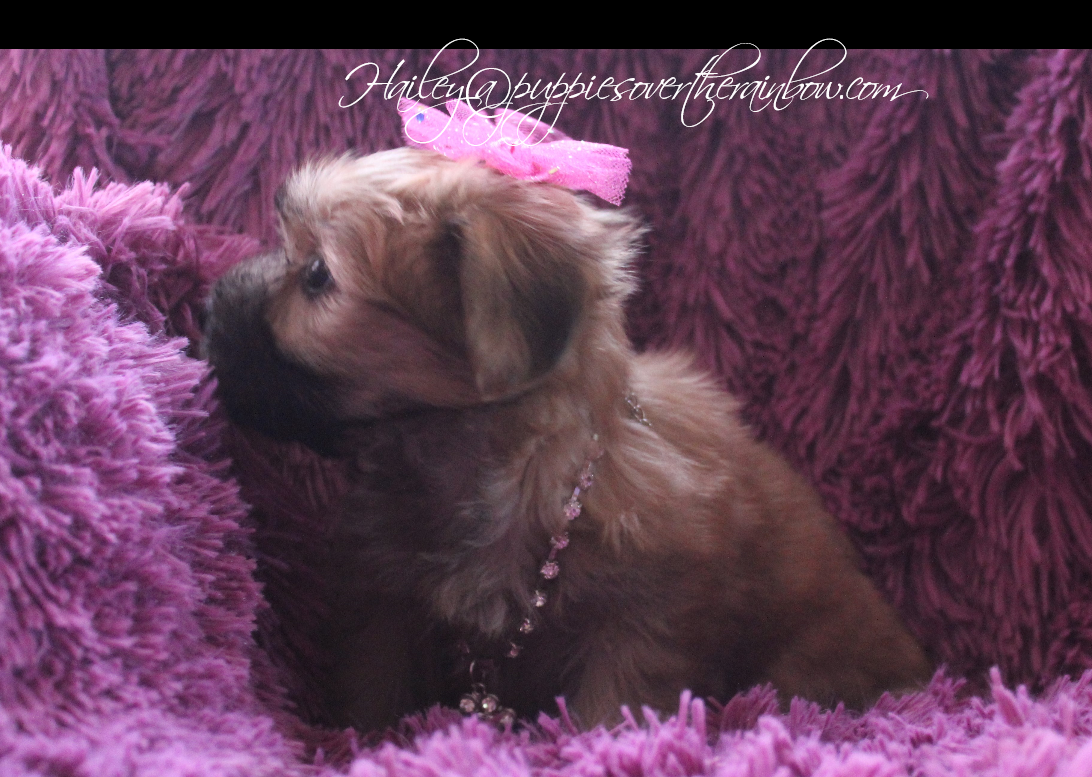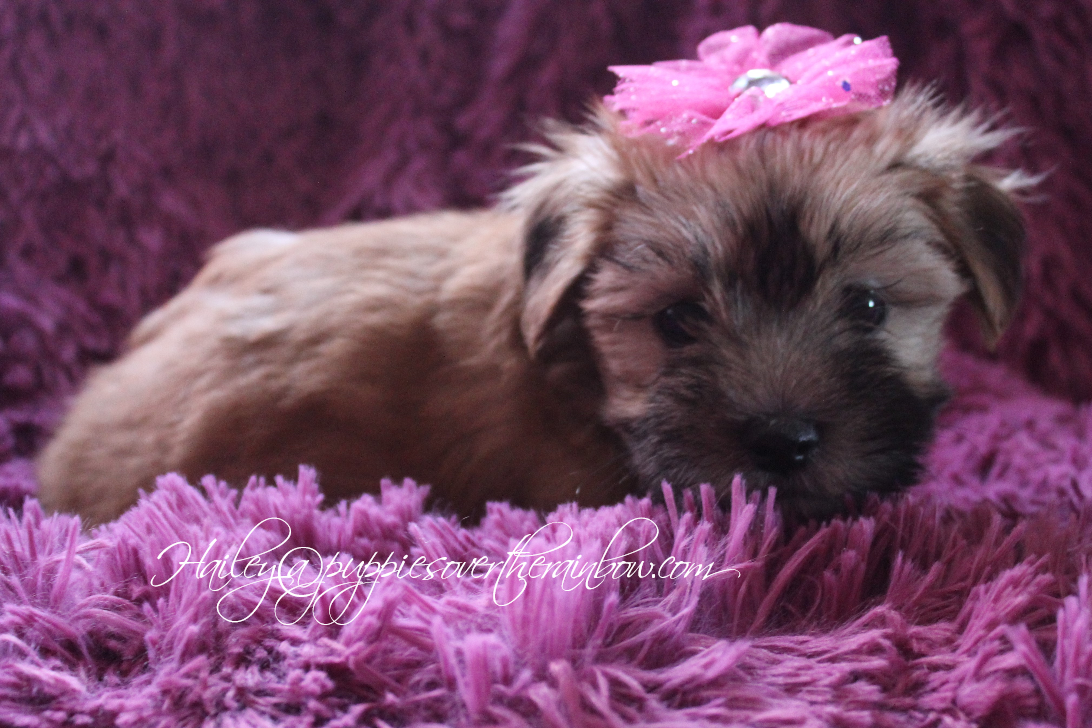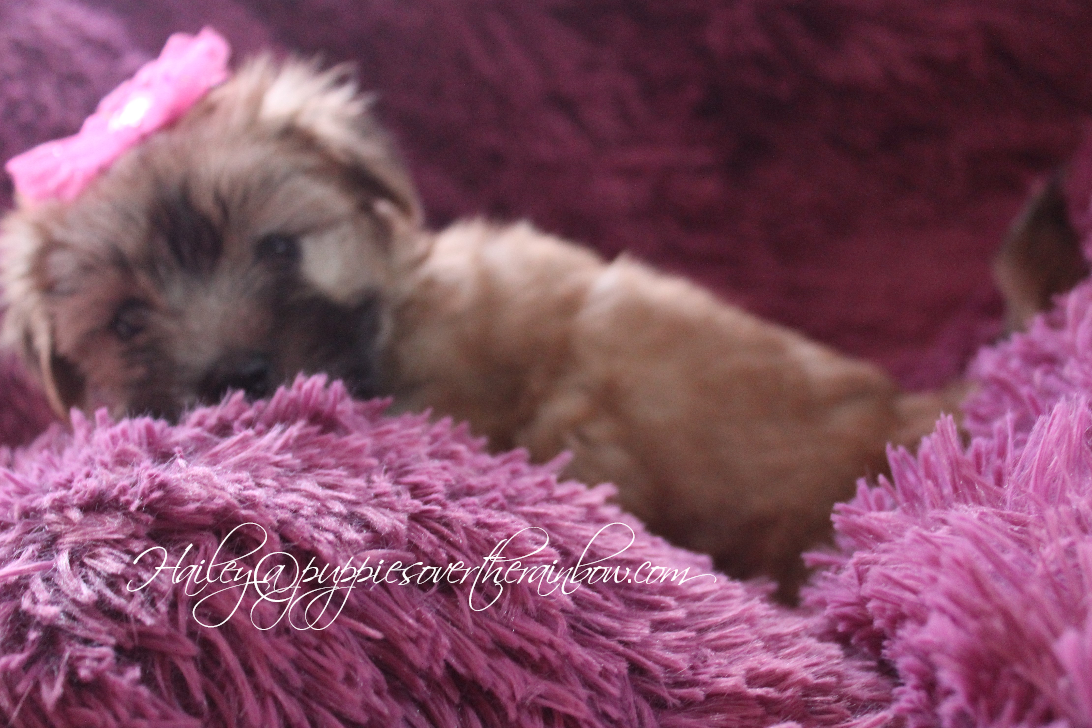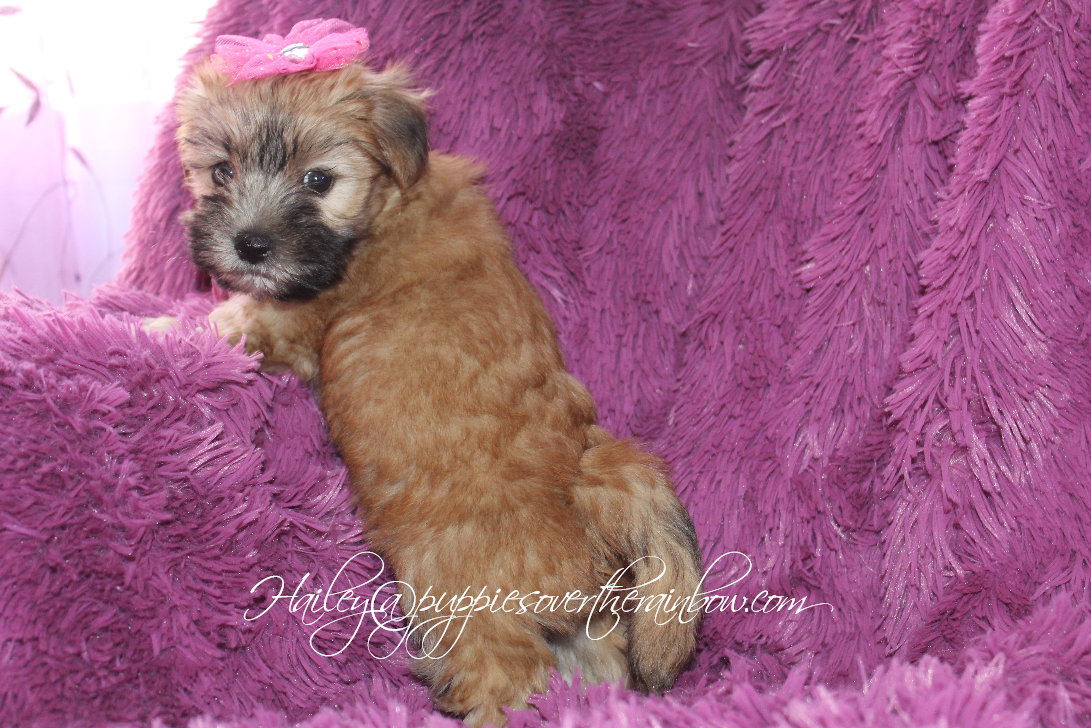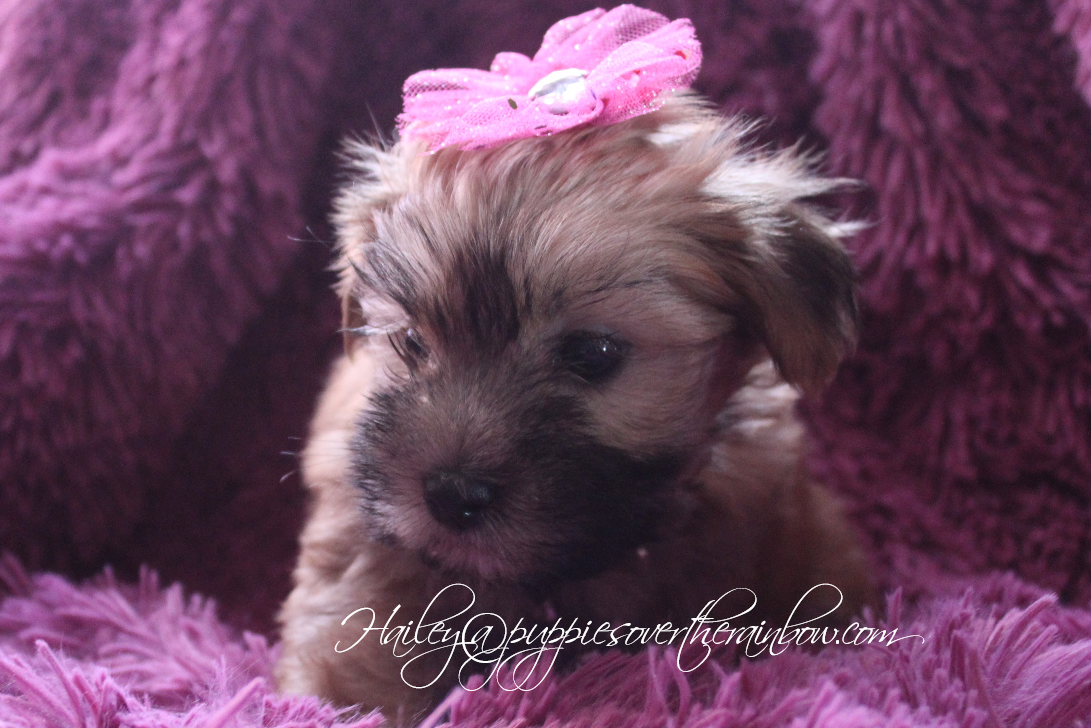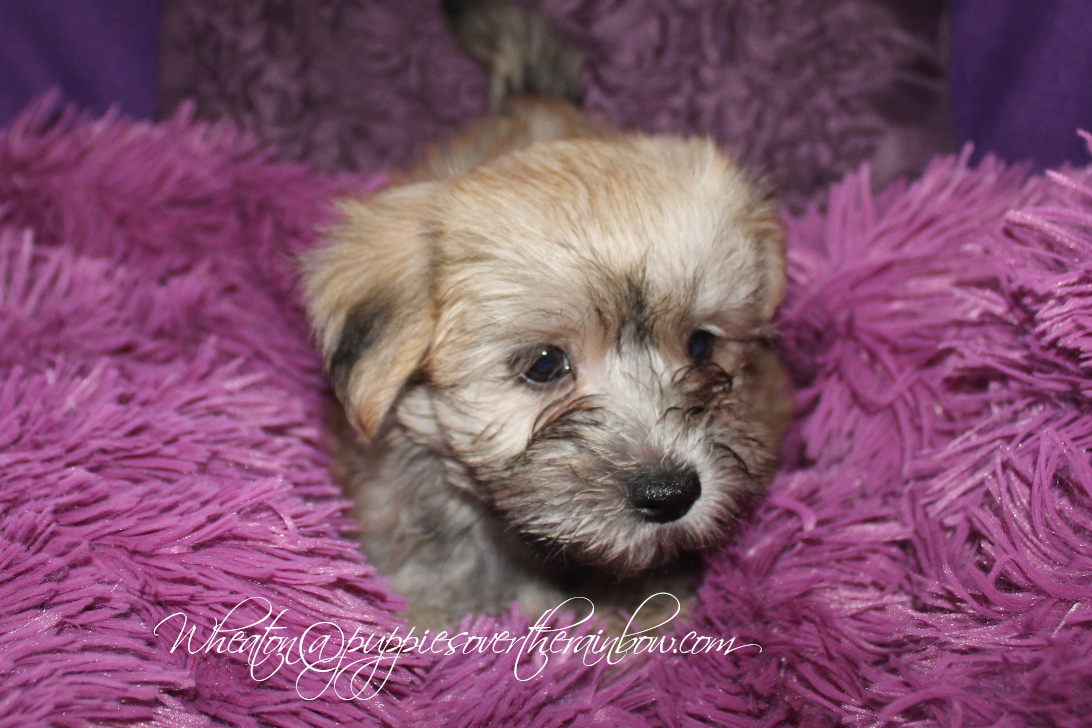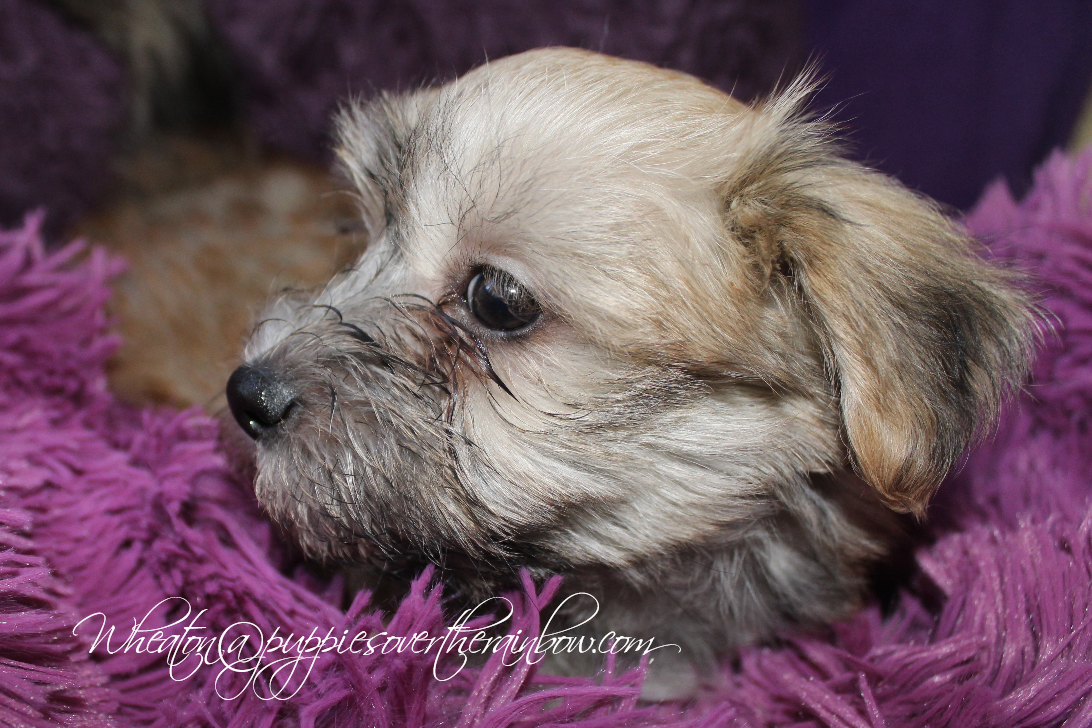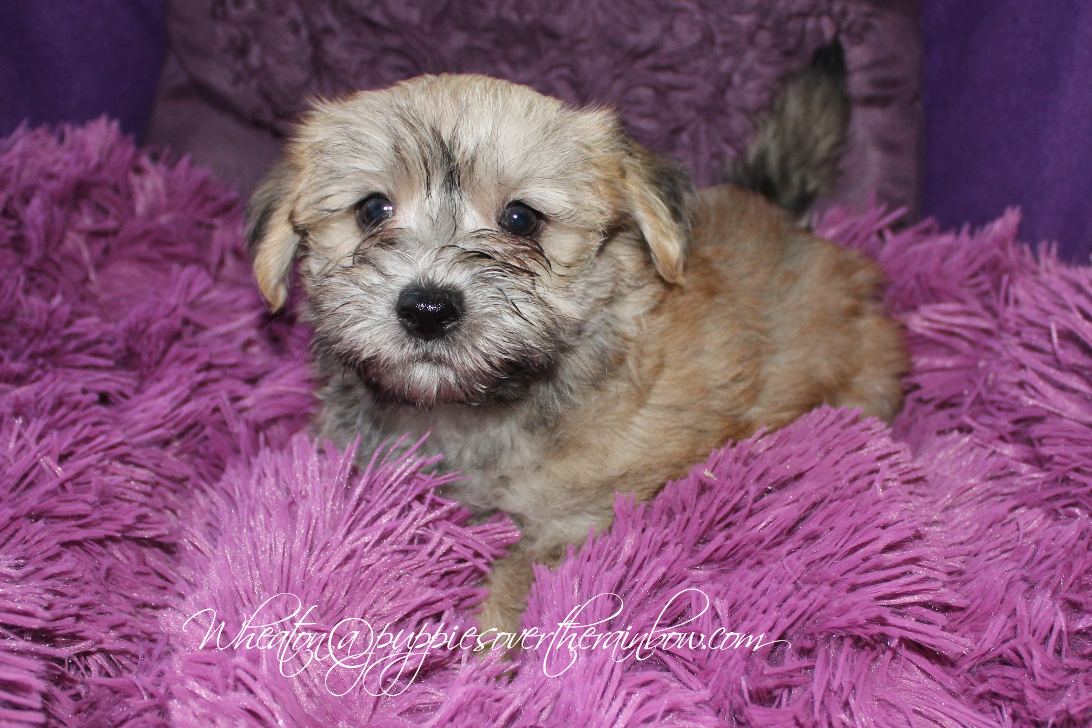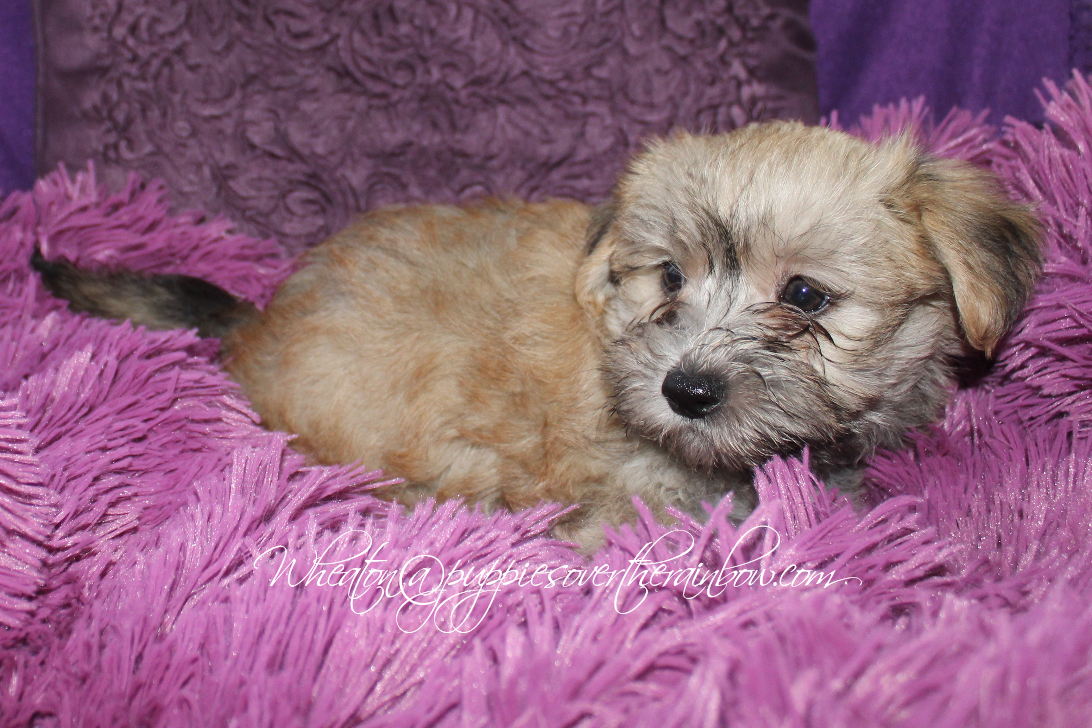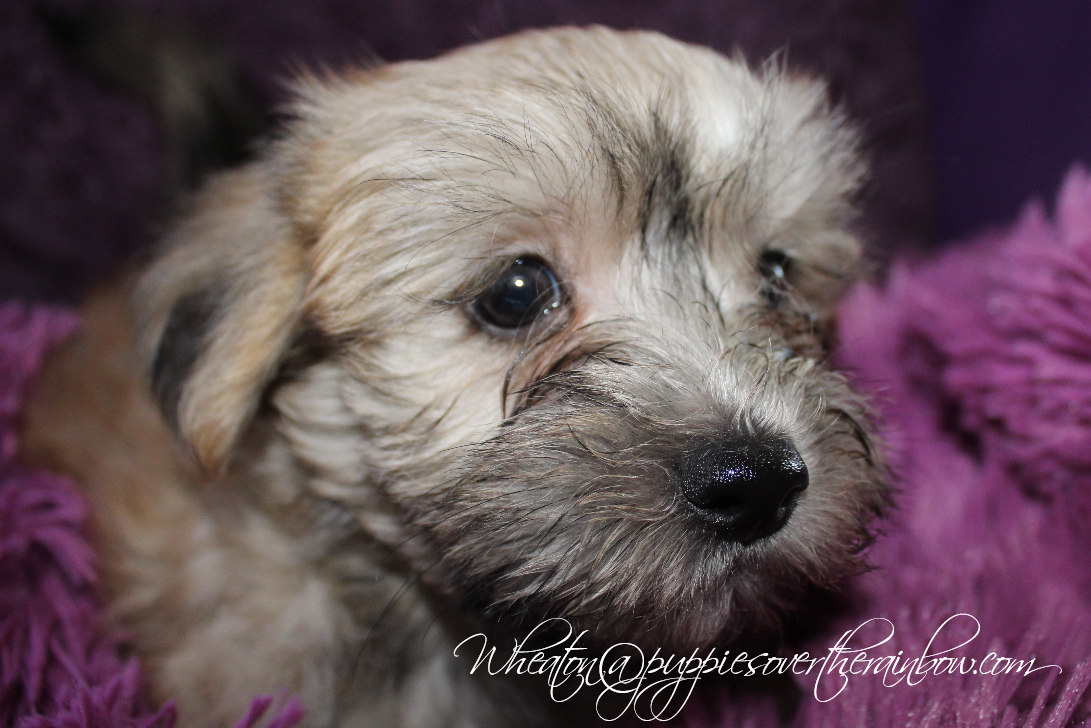 OH SUCH Thick, & SOoo...Soft Coat!